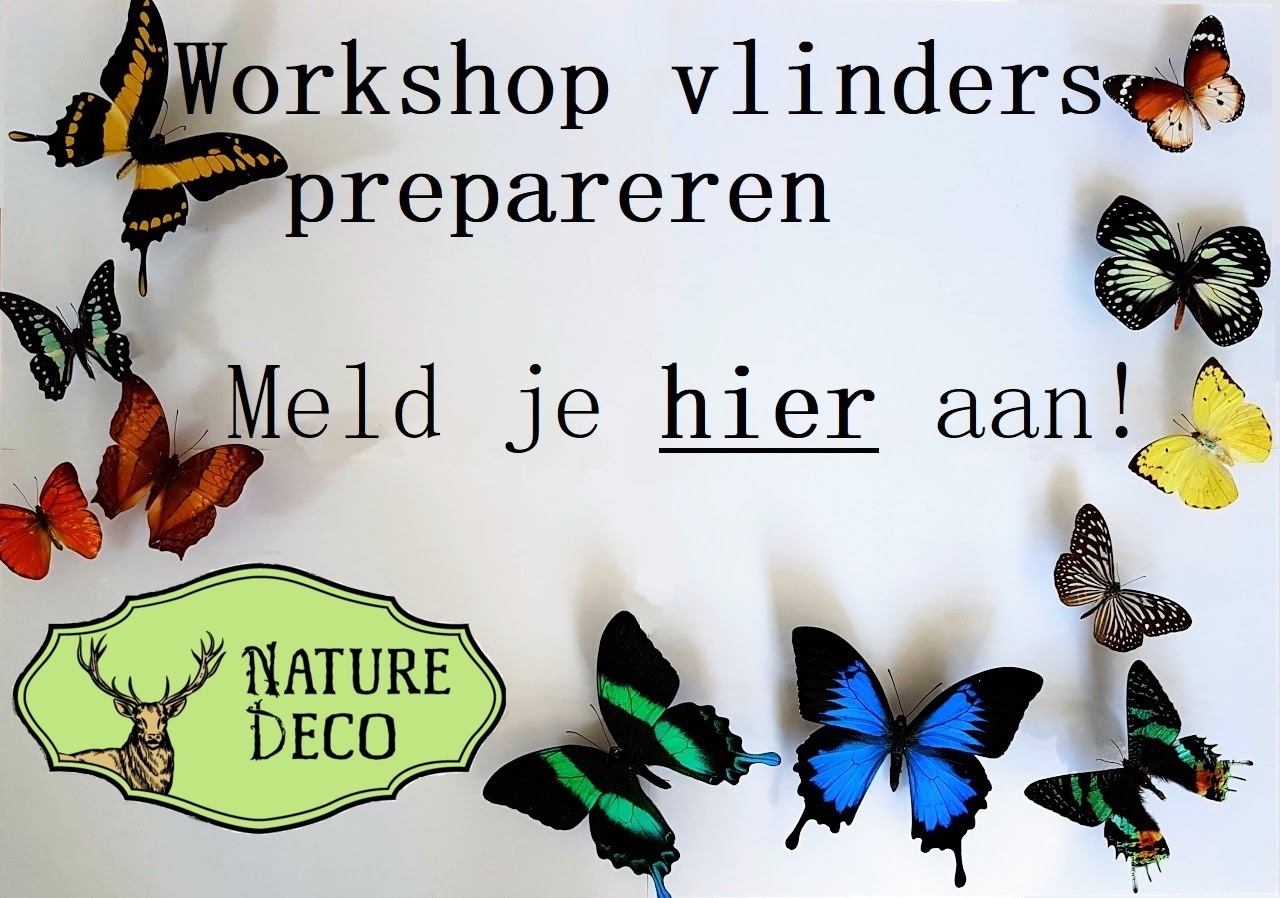 WORKSHOP BUTTERFLIES TAXIDERMY!
When: 
26-08-2023
30-09-2023
28-10-2023
Time:  10:00 AM
Cost: €67,50 per person.
After more than 3 years of teaching workshops, hundreds of students have already preceded you! The one and only butterfly taxidermy workshop in the Netherlands, Belgium and Germany!
We at Nature Deco have more than 5 years of experience in mounting butterflies, and have already spread thousands of butterflies.
Learn the preparation skills from the experts!
The workshop is held in a look-a-like old biology classroom in the middle of our store.
We also breed various butterflies, moths and other insects ourselves.
If possible, we will show some of them during the workshop and for those who dare, you can take a picture with them!
What do we do:
During 2.5-3 hours each will mount 5 butterflies. Including a Urania leilus! First we will explain how the butterflies are prepared, this can be done with different methods. We will discuss in detail the 2 methods we use ourselves. We will then demonstrate live on a large screen how we prepare the butterflies and we will tell you the tips and tricks you should pay attention to when learning to set up the butterflies. Then you can put on the (5!) butterflies yourself!
During the workshop we walk around to help and give tips where necessary.
At the end of the workshop, you will take the 5 butterflies (still on the preparation board) home and you will have the knowledge and skills to continue the hobby at home if desired.
The butterflies still have to dry for a few days, after they have dried you can place them at home in a frame or bell jar.
Of course there will be plenty of time and opportunity to shop in our store after the workshop. We have all the materials for sale to practice the hobby at home.
What to bring yourself:
For those who need it, reading glasses.
(Possibly pen and paper to take notes)
Does it seem like something to you? Sign up quickly because fully booked = fully booked! *click on the image above or click here to be redirected to the registration form*
(This includes the material you need, the 5 butterflies and coffee/thea)
More information? Send us a message. 
Private workshop?
This is possible at an additional cost, inquire about the possibilities and plan a day/time together with us.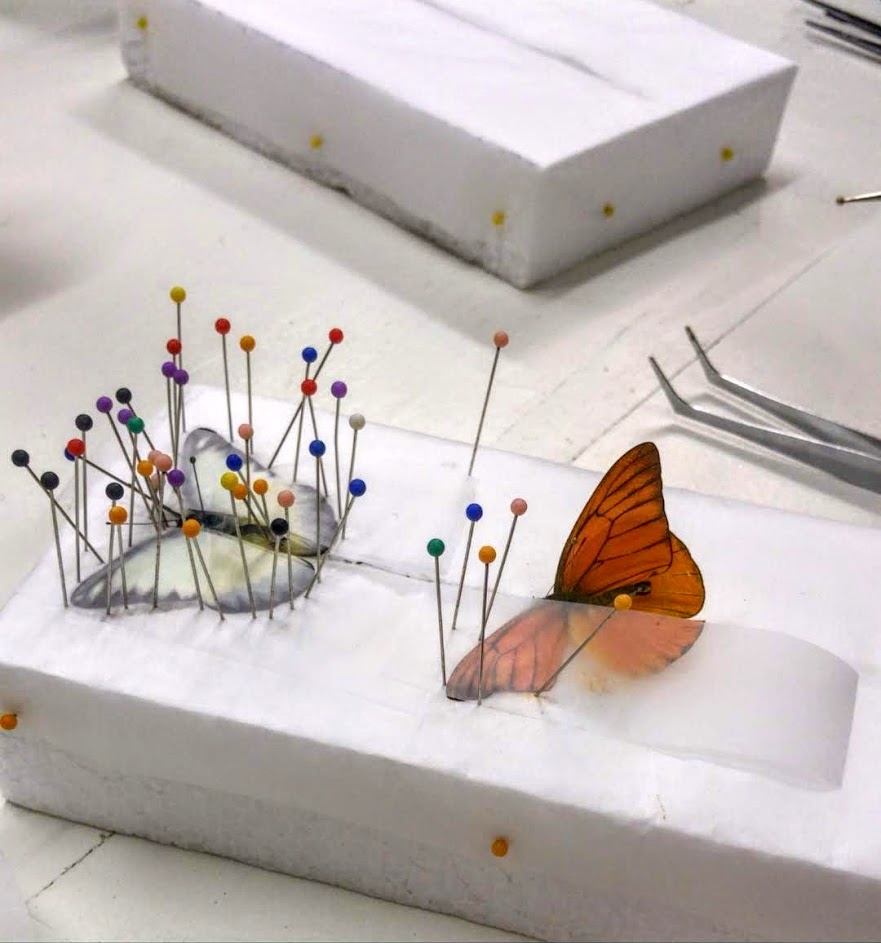 This is how it looks during the workshop.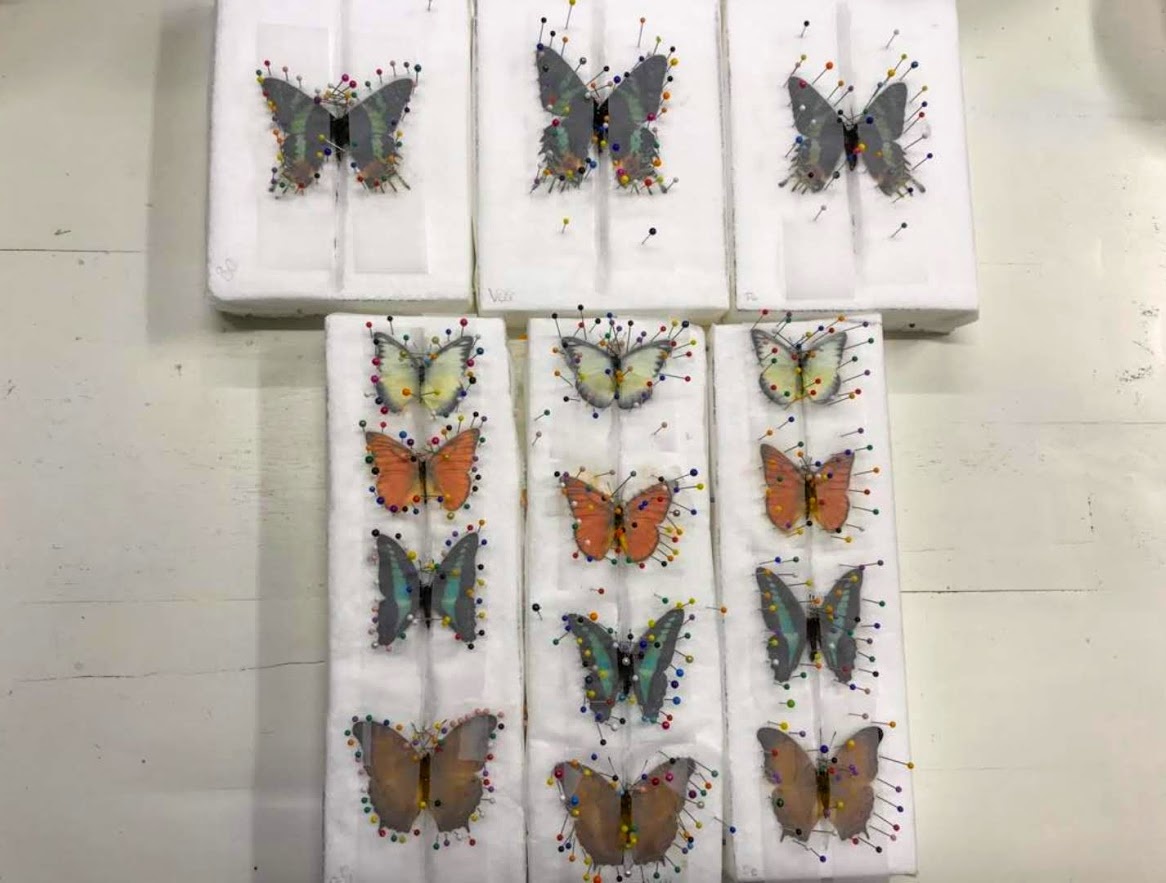 The result that goes home.